Today L-Originale recommends another tasty shrimps recipe that will solve the problem of lack of ideas for dinner: fried shrimps with vegetables and Balsamic Vinegar PDO!
Ingredients 
Procedure 
Clean the shrimps by removing the heads but leaving the tails; remove also the internal gut. Then dry them well with kitchen paper.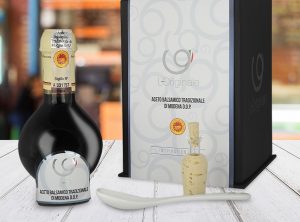 Now wash  the vegetables and cut them into sticks. Heat the peanut oil in and bring it to 170 degrees.
Prepare the batter by mixing the rice flour with some cold sparkling water. You have to obtain a mixture which is not too liquid and that remains lumpy.
Then mix the prawns and all the vegetables with the batter and fry them for a few minutes in the hot oil until a crunchy but not dark crust is formed.
Serve warm accompanied by Traditional Balsamic Vinegar of Modena PDO (aged at least 12 years). Check our store to get a real high-quality one!
L-Originale Traditional Balsamic Vinegar of Modena: www.l-originale.com