Today we propose you a very simple recipe: beetroot spring salad with Traditional Balsamic Vinegar. This colorful, tasty and healthy dish is one of the easiest to prepare. Beetroot is the absolute protagonist of this dish. Our version of this salad is a little different if compared to the very basic recipe: we decided to give it an original twist by adding a few, but essential ingredients. Keep on reading to discover our tasty version!!!
Ingredients for 4 people:
250 grams of already cooked red beet
90/100 grams of feta
1 yellow pepper
half a lemon
a bunch of parsley
a few leaves of basil
Traditional Balsamic Vinegar of Modena P.O.D. (Check our store to get the finest one!)
extra virgin olive oil to taste
Salt and pepper to taste
Procedure
Chop the beetroot into small chunks and cut the pepper into slices and add to it. Then add one or two tablespoons of extra virgin olive oil. At this point add a few drops of Original Balsamic Vinegar of Modena P.D.O. on your ring salad (You can also opt for a Balsamic Vinegar IGP if you prefer).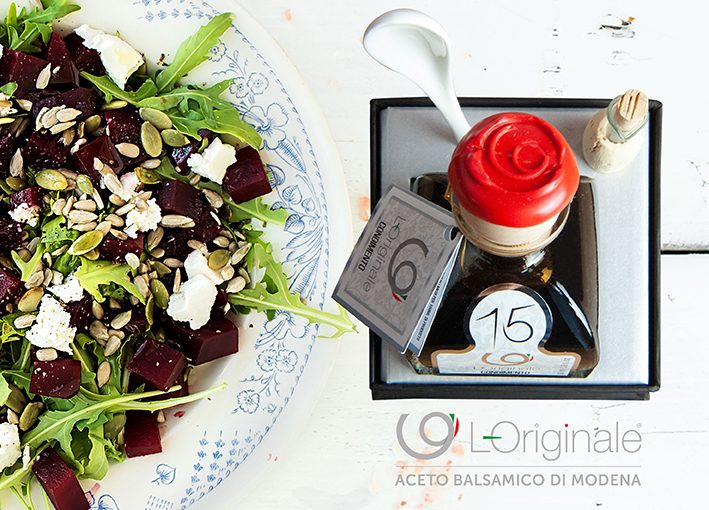 Now crumble the feta cheese and add it together with the finely chopped parsley and the basil leaves. Then season with salt and pepper to taste and you're done! We suggest you to accompany the salad with toasted croutons or with a few walnuts to make it a little crunchy. Enjoy the spring salad!
Check our blog for many other tasty vegan recipes!

L-Originale Balsamic Vinegar of Modena: www.l-originale.com