The Consortium for protection of Balsamic Vinegar of Modena has started its worldwide tour: in Florence on 12 and 13 February, in Dubai on 20 for the 100per100 Italian Night and from 21 to 25 February will be in Miami for the SOBEWFF.
The first stage is in Florence, at the Stazione Leopolda of the Chianti Classico Collection 2018. Balsamic Vinegar of Modena PGI is presented together with other Italian agri-food specialities, all protected by the AICIG institution. In this situation, Balsamic Vinegar of Modena PGI is the most famous product, in fact the Balsamic Vinegar PGI is the most exported product, about 92 % of the production is consumed abroad.
The second stage of the tour of the consortium is in Dubai, for the no profit evening organized by "I Love Italian Food ", which aims to promote and preserve the Italian food and wine culture. During this event, the Consortium for protection of Balsamic Vinegar of Modena will be represented by the its president Mariangela Grosoli, who will be the one who will hand over the "100per100 Italian" prize in Dubai, which will go to the Italians who stand out more in this city.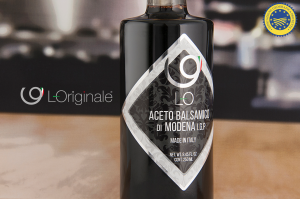 Immediately after Dubai, the consortium moves to Miami, for the Food & Cooking Channel South Beach Wine & Food Festival (SOBEWFF), where the best food and wine products in the world will be shown, moreover chefs and experts from all over the world will be there. The main purpose of the presence of Balsamic Vinegar at this event is to make American consumers aware about this product and do not know how to use Balsamic Vinegar, in fact they are not at all conscious of the true characteristics and differences of Balsamic Vinegar. This is the first time that Balsamic Vinegar is part of this admirable, internationally recognized event. It represents a great opportunity to introduce this wonderful product to the world.
During the SOBEWFF, the consortium will work alongside with Barilla's Italian Bites on the Beach, where the country's greatest chefs will serve dishes from various regions of Italy. A reinterpretation of Balsamic Vinegar of Modena will be served too.
The Consortium will take part in the Trade Day of Wine Spectator, presented by Beverage Media Group and hosted by Southern Glazer's Wine & Spirits, while in the last two days it will be one of the protagonists of the festival's characteristic event, "The Goya Foods Grand Tasting Village", which will take place in Miami Beach. During this event culinary demonstrations will be shown by over 50 restaurateurs and there will be also the possibility to taste food and wine from all over the world. In the same days, the Consortium for protection of Balsamic Vinegar of Modena will also take part in numerous side events, with the aim of forging strong relationships with local chefs and operators.
L-Originale Balsamic Vinegar of Modena: www.l-originale.com