The caprese on flatbread with Balsamic Vinegar is the perfect summertime dish for cooks in a hurry. The term Caprese derives from the notorious Capri, the beautiful city on the costiera Amalfitana. The salad was created in the 1950s at the Trattoria da Vincenzo for regulars out for a light lunch. Our version combines the delicate taste of the original recipe with the delicious flavor of flatbread and the intense taste of our Vinegar. Keep on reading to discover how to prepare it!
Ingredients
2 pounds vine-ripened tomatoes (about 4 large), sliced 1/4 inch thick
2 pound fresh mozzarella, sliced1/4 inch thick
1/4 cup packed fresh basil or arugula leaves, washed well and spun dry
1/4 teaspoon dried oregano
4 to 5 tablespoons extra-virgin olive oil
fine sea salt to taste
freshly ground black pepper to taste
Traditional Balsamic Vinegar of Modena P.D.O.
Flatbread of Emilia Romagna P.G.I.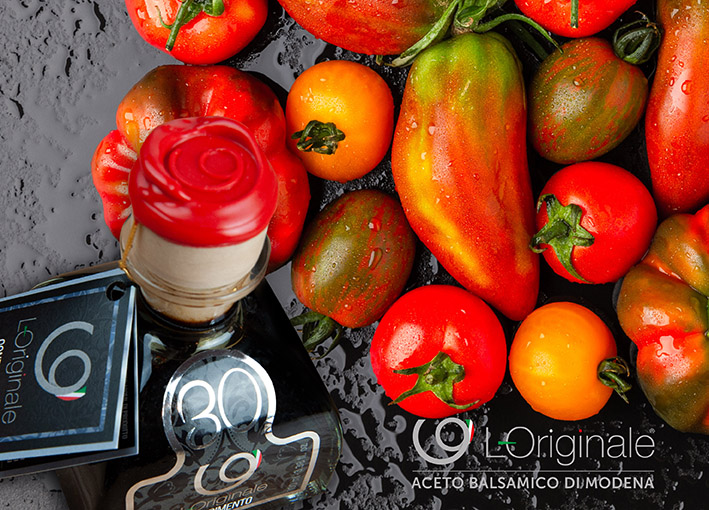 Procedure
The preparation of this dish is extremely easy! First of all slice the flatbread into small triangles. Then arrange on each triangle tomato and mozzarella slices and basil leaves, alternating and overlapping them. At this point sprinkle salad with oregano and arugula and drizzle with oil. Then season with salt and pepper to taste. Last but not least add a few drops of traditional Balsamic Vinegar of Modena P.O.D. and you're done! You can finally enjoy your caprese on flatbread with Balsamic Vinegar!
Check our Blog for many other fresh summer recipes!

L-Originale Balsamic Vinegar of Modena: www.l-originale.com