The Palio, organized annually by the Consortium of the A.B.T.M of Spilamberto, is the competition reserved for Traditional Balsamic Vinegar of Modena and extras D.O.P. , which has been repeated for half a century.
On the occasion of the Palio, "Balsamico" samples are examined to get the top 12 prizes awarded, with a prestigious award. The manifestation takes place this year on the 22th of June until the 25th in honour of Saint John, the saint patron of the town of Spilamberto.
Samples remain anonymous until the award ceremony. The tasting committee's evaluations are related to the visual, smell and taste standards of the product. After a first skimming, you continue with tasting sessions until you find the 72 semi-finalists first and the first 12 then. At this point, the 12 finalists receive at home two inspectors (the only ones who know the names of the producers) who in pair verify the compliance of the sample with the battery from which it was withdrawn.
The official, but still secret, list of 12 finalists is set by six taster masters on the first day of the San Giovanni Fair. The event usually takes place on Sundays during the Fiera di San Giovanni in the suggestive setting of Parco della Rocca Rangoni.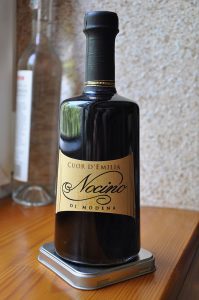 Of course the protagonist of the Palio is the Traditional Balsamic Vinegar of Modena, but there also other characteristic products: the Nocino, or nüsèin in the modenese dialect is a liquor obtained from the nutmeg, by means of alcohol infusion; the "amaretti", which are a kind of dessert pretty diffused in Italy, but those of Spilamberto differ from each other for their excellent qualities. The base recipe consists of sweet almonds mixed with sugar and snow-white albums.
Last year the winner was Gian Carlo Stermieri and he received the official diploma of the Consortium, a gold spoon and a bronze bas-relief. After a week from the prizegiving, the Gran Maestro marks the barrels of original Traditional Balsamic Vinegar of Modena the winner with the consortium logo.
L-Originale Traditional Balsamic Vinegar of Modena: www.l-originale.com