Today we suggest the pumpkin Tortelloni and Balsamic Vinegar if you are looking for a meal that contains high nutritional values ​​and various beneficial properties. The pumpkin Tortelloni is a typical ingredient from Mantova. Along with the Balsamic Vinegar, the pumpkin Tortelloni become a very special first course.
The sweet flavour of pumpkin contrast the acidity of the Balsamic Vinegar. The two elements, together, will surprise you and your palate.
The pumpkin is a perfect choice for low-calorie diets. It has got high fibre content, mineral salts and vitamins. Pumpkins become the classic filling for the "Tortelloni alla Montavona".
Let's look at the ingredients that we need for four people:
500 g of flour
5 eggs
oil
salt
Filling's ingredients:
1 kg of pumpkin
200 g of Parmigiano Reggiano
150 g of Amaretti
grated lemon peel
nutmeg
breadcrumbs
Dressing's ingredients:
100 g of butter
8 slices of bacon
Balsamic Traditional Vinegar DOP from Modena
Preparation:
Start preparing the puff pastry. Use one egg for every hectogram of flour. After that, cut a few squares, size 6/7 cm. When the squares of puff pastry are ready, fill them with one spoon of the filling of pumpkin. Finally, fall the square back on itself. It becomes a triangle. Then overlap the two edges to make a Tortellone.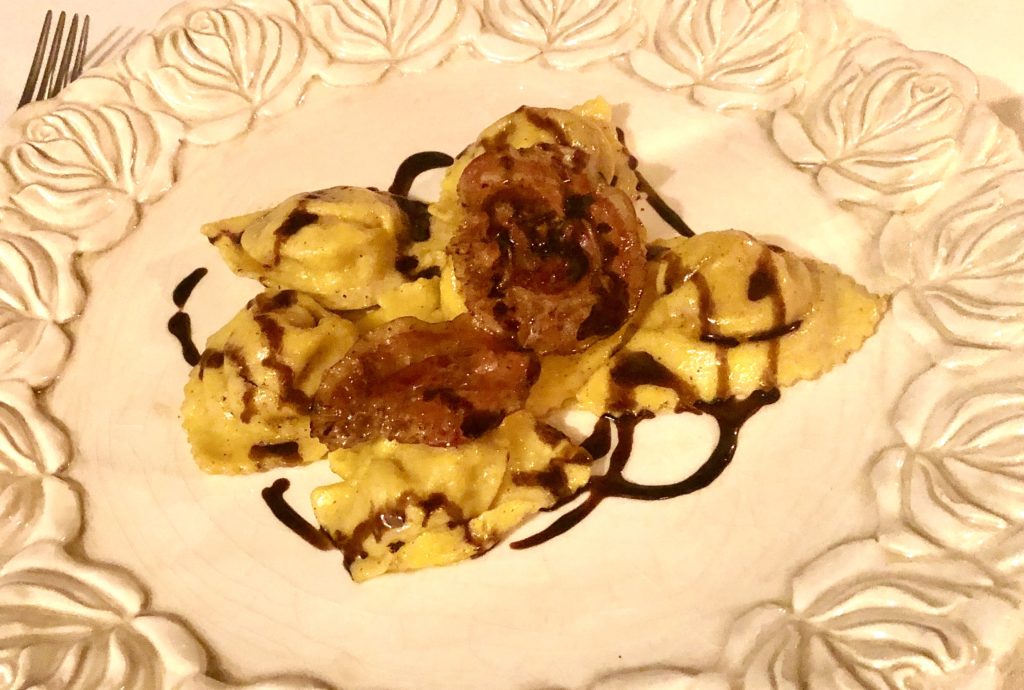 To obtain the perfect filling Tortelloni and Balsamic Vinegar you need a good pumpkin. The preparation is quite simple. First of all, wash the pumpkin and remove all the seeds. Cut the pumpkin in different pieces and cook them for about 40/45 minutes in the oven.
When the pumpkin is ready, remove the peel and wait until becomes colder. Put the pumpkin pulp with Parmigiano Reggiano, Amaretti, nutmeg, grated lemon peel and breadcrumbs in a plate. Mix everything.
Warm some water and cook the Tortelloni. We suggest leaving the Tortelloni only 30 seconds in the boiling water. When the Tortelloni have come to the surface, they are cooked.
Now amalgamate the Tortelloni with butter in a pan. At the same time, prepare the slices of bacon in another pan. Make them crispy.
Finally, lay the Tortelloni on a plate with bacon and Balsamic Vinegar.
A perfect choice will be the Traditional Extra Vecchio Balsamic Vinegar DOP from Modena, aged at least 25 years.
This unique Italian first course will surprise you!
We want you to remember that the ABTM, Traditional Balsamic Vinegar from Modena DOP, needs to be used only raw.
Greetings from Modena.