"Semifreddo with strawberries" is a lush, creamy frozen Italian dessert, of which you can find an impressive number of variants. Today we propose you L-ORIGINALE's version: semifreddo with strawberries, Traditional Balsamic Vinegar of Modena glaze and chocolate.
Ingredients for 4 portions
500 gr of strawberries
270 gr of sugar
2 egg whites
5 dl of fresh cream
100 gr of chopped pistacchio nuts
3 tablespoons of wine
For the Balsamic glaze:
a glass of Traditional Balsamic Vinegar of Modena
50 gr of dark chocolate
1 fresh chili
1 cinnamon stick
a few coriander seeds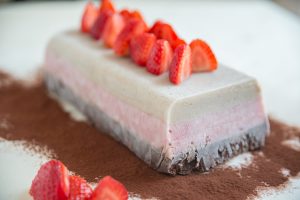 Procedure 
First of all, wash the strawberries and cut them into slices; then place them in a pan with 100 grams of sugar and the wine, bring to a boil and let cook for a couple of minutes. After that, mix with a blender and set aside.
At this point, put the remaining sugar in a saucepan with a couple of tablespoons of water to make a syrup. Then, beat the egg whites until stiff, adding the cooked sugar, add the whipped cream and finally the strawberry mixture, stirring gently with a spatula, from top to bottom.
Now, cover with baking paper some plum-cake molds or a single mold, pour the mixture, cover it with film and let them cool in the freezer for at least 8 hours.
At this point put the Balsamic Vinegar in a small pot with dark chocolate, combining herbs wrapped in sterile gauze. At the boil lower the temperature and let cook for about ten minutes. Remove the glaze from the heat, remove the aromas and allow to cool. Finally use the glaze to decorate the semifreddo!
Check our blog for a more detailed recipe of the Balsamic glaze!
L-Originale Balsamic Vinegar of Modena: www.l-originale.com