The spinach salad recipe with fresh ingredients is certainly one of the best way to enjoy vegetables! The variant of today includes macklered stuffed tomatoes whose taste is enhanced by a delicious tomato juice vinaigrette!
Ingredients
1 kg of whole peeled Italian plum tomatoes (keep aside the liquid for the vinaigrette)
120 gr of Mackerel Fillet
2 tablespoons of green Jalapeño mustard
5 tablespoons of extra virgin olive oil
3 tablespoon of Traditional Balsamic Vinegar of Modena
4 tablespoons of mayonnaise
Freshly ground pepper to taste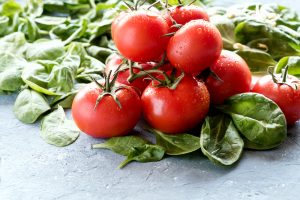 Preparation of the tomato juice vinaigrette
Let's start by draining the canned tomatoes with the help of a metal strainer. Then, cut off the top of the tomatoes and remove the seeds with the help of sharp paring knife. At this point, place the tomatoes in another bowl.
Using a strainer, press the tomatoes to drain the juice; then, set the juice aside, putting in the refrigerator. Then put 1/4 cup of tomato juice, 2 teaspoons mustard, 2 teaspoons of honey, and 3 teaspoons of Traditional Balsamic Vinegar in glass bowl and mix them. Slowly add the olive oil, whisking to incorporate. Finally, season with salt and freshly ground pepper taste.
Preparation of the mackerel stuffed tomatoes
Let's start by draining the mackerel in strainer, making a gentle pressure to remove excess liquids. Using a fork, finely break up the mackerel in small pieces. Finely dice up two tomatoes and add the mackerel with mayonnaise. At this point, use this mixture to carefully fill 20 of the best looking canned tomatoes.
Just before serving, dress the spinach salad with the stuffed tomatoes and the vinaigrette to taste. Drizzle the vinaigrette also over the tomatoes and your dish is completed!
L-Originale Balsamic Vinegar of Modena: www.l-originale.com